May 09, 2020
0 comment

Anastasia
Imagine you're given a task to write a research paper, and you have little time. You need to conduct high-quality research on your topic and find only the most relevant sources in a very short time. If you encountered situations like this, then this study hack is for you. We will describe here how to gather quality sources on any topic really fast. 
In a usual internet search, you might get many low-quality sources with unverified information. Many websites post information without any references. Sometimes this information has merit – for example, you can include a personal blog of a person who is an expert in some field. Although the blog post does not have academic references, you can use this resource in your paper, stating that the post contains an opinion of a particular professional. However, most of the time, college research papers require academic vigor of literature research. That means that the sources you refer to should come from academically accepted sources, such as articles and papers in peer-review journals. So how to quickly find opinion leaders, critical research, or a neat summary of the essential information on your topic? 
It is super easy. Go to Google Scholar and search for papers on your topic or some very similar topic. Google Scholar actually shows you which results have a free full-text version – you will see [pdf] or [full-text html] or something of the like to the right from the main search result. I advise picking those results that have a full-text version because we are not interested in abstracts. We are interested in the Literature review section of this paper. Almost every research paper published in the academic journals should have a literature review section, where the author describes and analyzes all the pivotal works and opinions on a specific topic. Sometimes lit review sections are not titled like that, and you will find them in introductions.  In any case, try to find a research paper with a quite recent date, so that an author could include studies that have been recently conducted.
And thus, you get a high-quality overview of your topic done by some scholar, and you can follow the references that he or she provides to find more information on a particular aspect of your topic. The additional bonus is that you also have a nicely done reference list, very often formatted according to your reference citation style. 
Sure, don't just retell the stuff discussed in the lit review of just that one paper - you might have high similarity to the original text, and it may raise the issues of plagiarism. Rather, follow at least several of the sources referred to in the lit review and retrieve additional information or insights from those. Combine references from at least 2-3 sources.
For example, if I were to write a paper on behavioral marketing with a topic "The effect of social endorsement on brand-related behaviors on Facebook", I would search several papers on a similar topic in Google Scholar.  Like the paper "Like" a Global Endorsement. How Clicking "Like" Influences Facebook Users Brand Recall and the Future Purchasing Intentions". The Introduction section contains a useful literature review on my topic, and the reference list includes bibliographic citations on all these resources. 
All these highlighted sources as shown below I can locate and pursue further to write my own angle on the topic.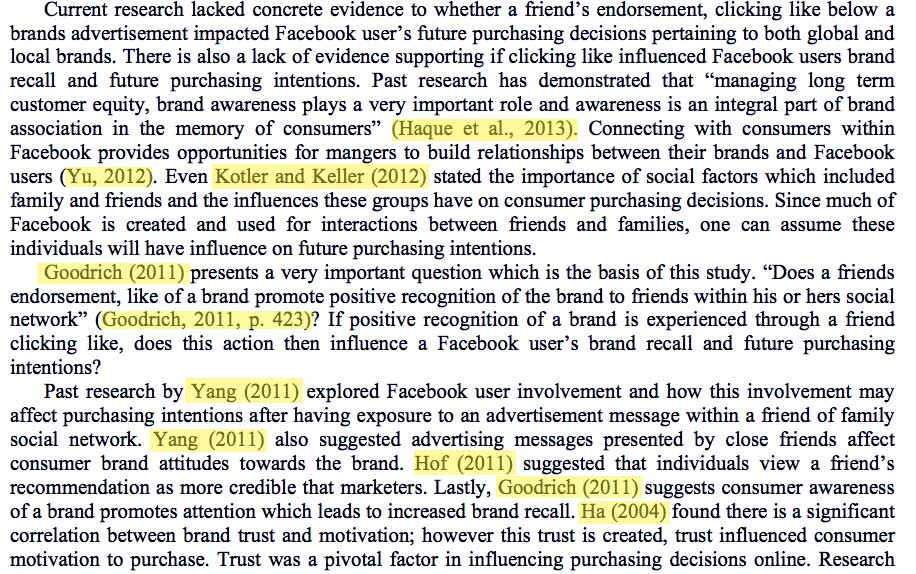 If you did not find too many open access research papers on your topic in Google Scholar, you can try Academia.edu – this is a free resource where researchers, students, and academics publish their research papers and articles, and the search there can be very fruitful.
I hope you found this study hack helpful. If you did, please, like our page and comment on what other study problems you would like us to help you with. 
---
If you struggle with college research writing, Personal Writer is here to help. Our expert writers will produce custom-written, completely original and high-quality essays and research papers for an affordable price. Contact us with an inquiry.